Overview
This document contains information to install a Cel-Fi GO G41 unit inside a NEMA-4 rated metal box for outdoor use. A wireless modem can be installed in the same box to provide remote connectivity to the WAVE portal.
Materials
1x NEMA 4 electrical box (Min. dimensions 280mm x 120mm x 75mm (11.02in x 4.72in x 2.95in))
1x Cel-Fi GO G41 (MN: G41-xE-003) includes a power adaptor and a 7' ft. Ethernet Cable
1x Cel-Fi LPDA-R Donor antenna (MN: A62-V44-200) or equivalent
1x Cel-Fi Server antenna (MN: A52-V32-101) or equivalent
2x Cel-Fi QMA Male to N Female, 16" coax cable (MN: D12-20114-2002) or equivalent
1x Wireless Modem (optional)
2x Thermal pads 7.8W/Mk heat conductivity and 1mm thickness
1x AC in-line power outlet
3x Cable Gland for Enclosure
Tools & Miscellaneous
Power drill w/ different drill-tip sizes
Phillips Screwdriver Set
Cable plastic clips and zip ties
Waterproof Self-fusing Silicone Rubber Tape
Mounting instructions
Install the NEMA 4 electrical box to the wall or pole (Install per manufacturer recommendations)

Install cable glands according to manufacturer instructions. Two glands for ½" coaxial cable runs and one cable gland for the electrical power cable.
Use the G41 unit to mark holes on the mounting panel of the NEMA 4 enclosure.
Drill 4x 4mm (about 0.16 in) holes in the marked positions.
Place 2x thermal pads (see min. dimensions in the image below) between the G41 unit heatsink and the mounting panel.
Secure the GO G41 unit to the mounting panel using 4x 4M screws (Min length 10mm (0.39 in)).
Install the modem following manufacturer recommendations.

Interconnection diagram
The image below shows a basic interconnection among all the elements.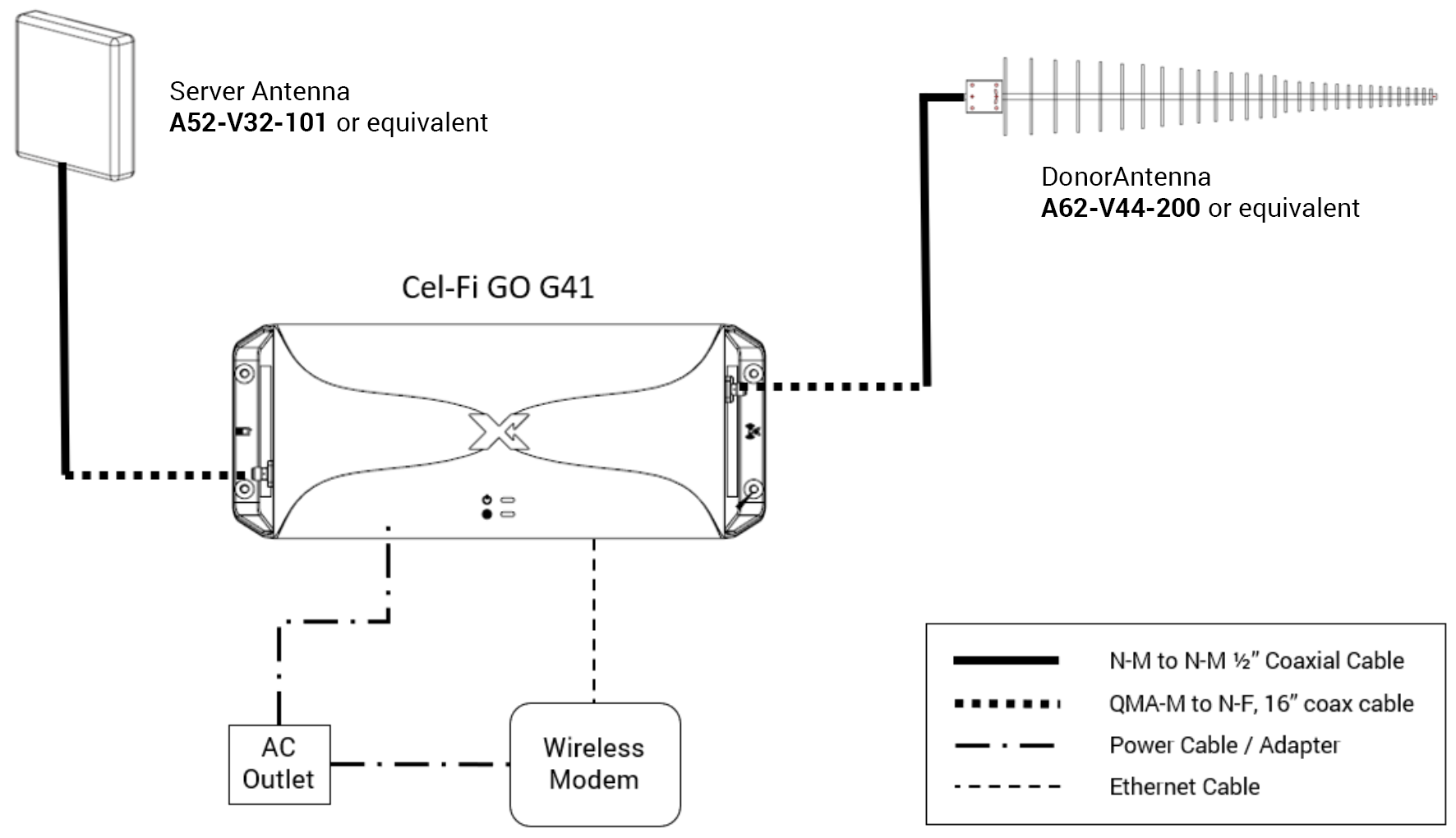 Follow the instructions on the WAVE PRO app to commission your GO G41 unit.