Use the Access Manager page to request access to specific Cel-Fi systems. The primary purpose of requesting access is so installers or system integrators can commission QUATRA systems using the Wave Portal.
If you know the serial number and SKU of the Cel-Fi QUATRA Network Unit, you can request access to the system in the WAVE Portal. To request access to a selected registered Network Unit or multiple Network Units please do the following:
1. Open Google Chrome and go to the Cel-Fi WAVE Portal
2. Go to the Access tab

3. Select Request Access in the Options menu

4. Enter the serial number and SKU of the Network Unit for which you are requesting access.
5. Click Request Access when finished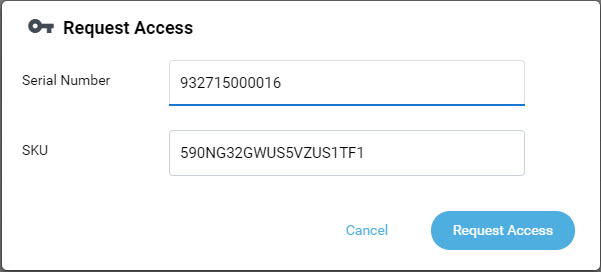 6. The SN(s) have been assigned successfully, you should be able to go to see them listed on the Acess page. If the unit is powered on and online it will show up on the New Systems page.