Overview
The Cel-Fi QUATRA 4000 Range Extender is a Power over Ethernet (PoE) device that extends the maximum distance between the QUATRA 4000 Network Unit and the Coverage Unit. This allows for plug-and-play installations with cable lengths up to 200 meters.
The Range Extender is designed solely for use with the Cel-Fi QUATRA 4000, and will not work with Cel-Fi QUATRA 1000/2000 variants or other devices. Only one (1) Extender may be used per Cel-Fi QUATRA Coverage Unit.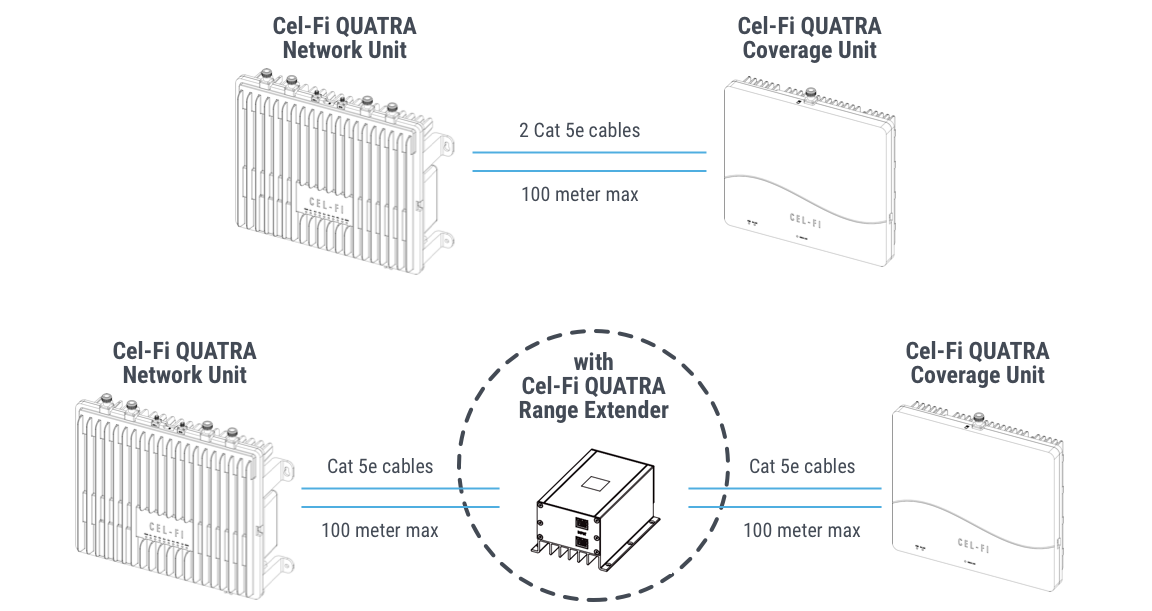 Installation
Step 1 - Locate and mount the Extender unit
Input and Output port LEDs should be clearly visible
Allow adequate ventilation
Do not mount in direct sunlight, near heat sources, or in weather-exposed areas
The Cat 5e cables that connect the INPUT ports to the QUATRA Network Unit should not exceed 100 meters in length
The Cat 5e cables that connect the OUTPUT port to the Cel-Fi QUATRA Coverage Unit should not exceed 100 meters in length
Note: Cel-Fi QUATRA Range Extender cables from the NU to the CU must be dedicated. The system will not function if common shared LAN resources are used with the cabling (routers, switches, etc).
STEP 2: Connect INPUT and OUTPUT cabling
The Range Extenders power is provided by the cables from the Cel-Fi QUATRA Network Unit
RJ45 LED #1 (solid amber) indicates the power
RJ45 LED #2 will blink green during initialization and will be solid green when the Extender has passed self-testing and is operating normally
If both LEDs blink off periodically on a port, the port is resetting to try and establish communications with the Network Unit or Coverage Unit it is connected to. Check cables and connections if this occurs.
If both INPUT LEDs are off, check the cable to the QUATRA Network Unit and that the Network Unit is powered up
If both OUTPUT LEDs are off, check the cable to the QUATRA Coverage Unit

Technical Specifications
Item
Specification
Model
Q40-OE
Data Rate
1000 Mbps full duplex
Connectors
RJ45
Cabling
Category 5e or better
INPUT/OUTPUT voltage
42 - 57 VDC
Power Consumption
7.5 watts typ.
Device Type
Class II
Ambient Operating Temp
0 – 40ºC
Relative humidity
0 – 95% Non-condensing
Environment
Indoors
Mounting
Wall or shelf
Dimensions
150 (L) x 110.5 (W) x 78 (H) mm
Weight
0.7 kg
Compliance
FCC Part 15, Class B
CE
IEEE 802.3at-2009
RoHS
UL/CSA/EN 62368-1
Safety Precautions
Use this product indoors. It should not be used outdoors
This product is designed to be powered over Ethernet cabling
When installing the equipment, all the requirements of the manufacturer and the referenced standards must be met
There are no user-serviceable parts inside
CAUTION: Changes or modifications to this product not expressly approved by Nextivity may void your right to operate the equipment
Note: Cel-Fi QUATRA 4000 Range Extender heat sink edges may be sharp. Caution while handling.
Warranty
Nextivity Inc. provides a limited warranty for its products. For details, please refer to cel-fi.com/warranty.
Limitation of Liability
In no event shall Nextivity, nor its directors, employees, agents, suppliers or End Users, be liable under contract, tort, strict liability, negligence or any other legal or equitable theory with respect to the Products or any other subject matter of this Agreement (i) for any lost profits, cost of procurement of substitute goods or services, or special, indirect, incidental, punitive, or consequential damages of any kind whatsoever or (ii) for any direct damages in excess of (in the aggregate) the fees actually received by Nextivity from End User with respect to the Products actually purchased and paid for.
See cel-fi.com/patents for a list of patents covering this product.
Electromagnetic Compatibility (EMC)
This equipment has been designed and tested to fulfill applicably standards for:
Radio frequency emission when installed according to the instructions and used in its intended environment.
Immunity to electrical and electromagnetic phenomena when installed according to theinstructions and used in its intended environment.
USA
This equipment generates, uses and can radiate radio frequency energy and, if not installed and used in accordance with the instructions, may cause harmful interference to radio communications. However, there is no guarantee that interference will not occur in a particular installation. If this equipment does cause harmful interference to radio or television reception, which can be determined by turning the equipment off and on, the user is encouraged to try to correct the interference by one or more of the following measures:
Reorient or relocate the receiving antenna
Increase the separation between the equipment and receiver
Connect the equipment into an outlet on a circuit different from that to which the receiver is connected
Consult the dealer or an experienced radio/TV/IT technician for help
Europe