When the status light (the one on the top) is flashing green it means the Coverage Unit is trying to make a connection to the Window Unit.
This could take as long as 30 minutes in some cases
Is the green Status Light flashing?
Wait for the status light on the coverage unit to stop flashing green.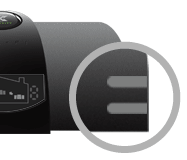 There are no lights lit on the coverage unit
It stopped flashing and turned off
It stopped flashing green and now it is flashing red
It stopped flashing green and now it is solid red
If you have waited more than 30 minutes, and the green status light did not stop flashing, please visit: http://cel-fi.com/warranty/exchange