Release date: June 29, 2023
Nextivity is pleased to release WAVE Portal version 1.7, which includes several improvements to user experience, including:
New Feature: Expanded Operator Selection
CEL-FI QUATRA 4000 series and QUATRA EVO systems are now able to select per-port operator assignments in the WAVE Portal. Previously, QUATRA 4000/i/c systems in North America limited each donor port assignment to a specific operator. A WAVE Portal user can now assign each port, selecting from a list of all operators supported at the Site installation address.
This improved operator selection adds the ability to assign the same operator to multiple ports, increasing the number of bands relayed for a given operator. For instance, Nextivity Partners in the USA may elect to update the configuration on existing QUATRA 4000 installations to repurpose a previously disabled "Sprint" port to another operator.
New Feature: Operator Assignment Feedback
With the added flexibility to select any operator on a port, it's important to know the Band relay capabilities of each port. This information is now displayed in the Operator Settings section of the System Settings page. Also added to the dropdown lists in this section are the available Bands contained within each operator configuration.
When you select an operator from the list, the bands contained within that selection are compared to the list of bands the assigned port can relay. If the selected configuration contains bands that cannot be relayed by the assigned port, but could be relayed if assigned to a different port, then a message is displayed to inform the user.

Note: Valid and appropriate configurations will occur where the "Band # is not supported" feedback message is displayed. For example, when assigning two ports to the same operator because some desired bands are relayed by the first port and some by the second.
This feedback minimizes possible oversights while enabling configuration flexibility.
New Feature: System History Reports
The WAVE Portal is a powerful tool for Nextivity Partners, used to both commission new systems and maintain existing installations. As a remote monitoring and management platform, it reduces the need for on-site visits and expedites the identification and remediation of issues. Troubleshooting just got easier with the introduction of System History Reports.



A "Reports" button has been added to the top-right of the NU Details page on CEL-FI systems. When clicked, a new window appears with a grid of measurements to select for further analysis.
Select the Date Range at the top: Last 24 Hours, Last Week, or Last Month
The rows list each metric available for reporting, organized by Asset. For QUATRA systems, each CU will be listed with its respective measurements. The measurements available are those which could previously be reported individually.
The columns organize the donor ports and constituent radios. Users may select multiple metrics for the same radio, the same measurement across multiple radios, or a mix of both. The appropriate selections will vary based on the situation and what needs to be analyzed.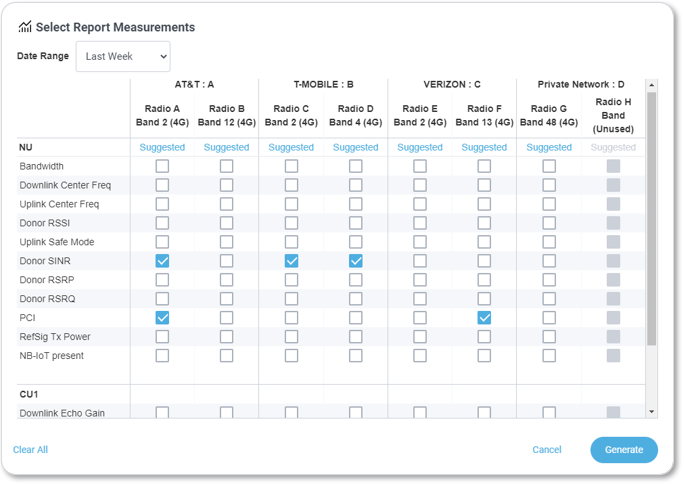 A "Suggested" link is available at the top of each column to quickly select those measurements which are most often used to analyze performance issues. If a checkbox is greyed out, then the system's most recent report indicates that the radio is unused, or the measurement is not applicable to the radio.
Previously, reviewing multiple measurements required clicking back and forth, or attempting to open multiple windows. Once selections are made and the report is generated, all measurements appear on the same screen, as a stacked view of the charts for each measurement.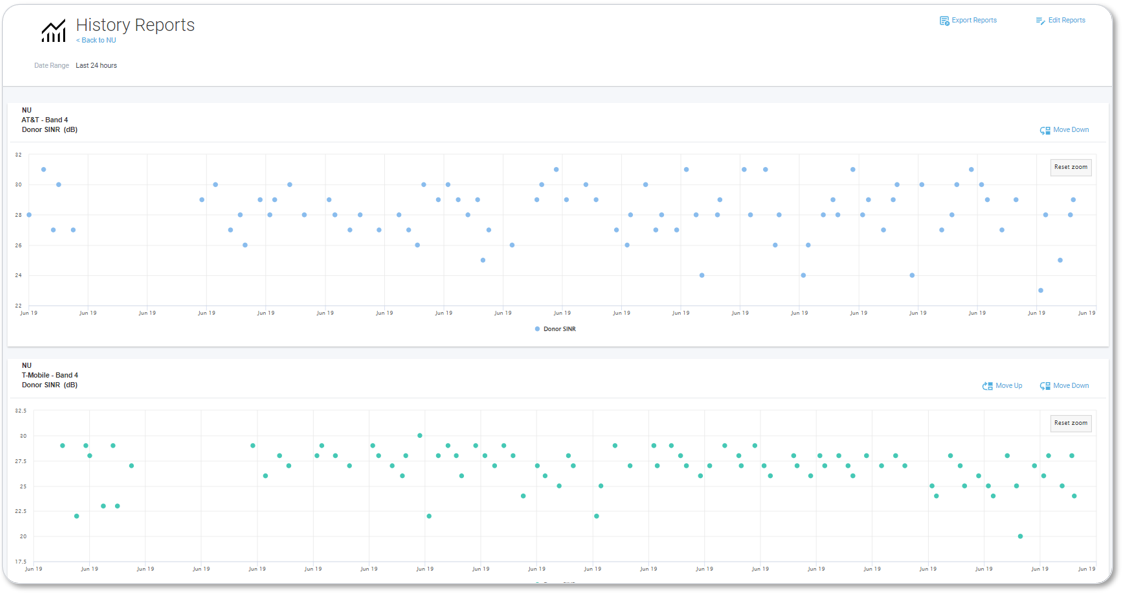 The charts can be rearranged to review relevant measurements on the screen at the same time. An Export option is also available to print the report to PDF.
Operators now automatically gain access to multi-donor systems in WAVE Portal based on the system's Operator Settings. While operator user access was (and continues to be) automatically set for single-donor systems such as CEL-FI GO models and QUATRA 1000, operator access previously needed to be manually granted in the WAVE Portal for multi-donor systems such as QUATRA 4000/i/e/c and EVO. With this WAVE Portal release, operator accounts now automatically receive access to multi-donor systems when the system has one or more ports assigned to their network. Similarly, they will automatically lose access if a multi-donor system no longer has any ports assigned to them. Operator users are only able to view the radio data for those ports assigned to their network. Please note that these automated access changes only affect multi-donor systems.

Improvements have been made to support collaboration by multiple companies on the same Site in the WAVE Portal. When users from different companies both have access to the same Site they will now be able to see the same Floorplan files and Site Config files that have been uploaded to the Site. This allows improved collaboration in situations where Company A created the Site and will perform the surveys using the COMPASS XR, but Company B will perform the on-site installation and commission the system.
A freeform text Notes field is now available on Sites in the WAVE Portal. It can be found at the top of the Site page, accepts a single line of text up to 255 characters, and can be used to record any information deemed appropriate. This field is associated with the Site and shared with all users with access to the Site.
WAVE Portal now informs the user of configuration changes that are unavailable on a CEL-FI QUATRA system while a Software Update is in progress. For example, it will no longer appear in the UI as though Band & Channel Settings can be changed while an update is underway.
A new Mandatory connection option has been added to CEL-FI GO G41 and G51 products in the WAVE Portal under

Options > Settings

on the system details page. This option is disabled by default. When enabled,

the system is configured to require a connection to the WAVE Portal and will stop relaying after 14 days if the connection is lost. Note that the system must be connected to the WAVE Portal to receive this configuration change.

WAVE Portal now differentiates a donor port that has yet to be assigned to an operator from one that is disabled. For example, the operator selection on ports of a new QUATRA 4000e system will now report as "Unassigned" rather than "Disabled".
The Map page will now load faster when clicking

View Map

on a Site page.
Issues Resolved
The Measurement Summary modal will again appear when you click on a measurement pin on a Site Survey heatmap.
Resolved an issue that resulted in an MFA challenge during every login for select users with accounts that have only been used from one browser or client for over a year.
Resolved an issue that caused Radio Metrics available on the WAVE App when connected to a G41 or G51 to not appear in the WAVE Portal. Specifically, "Uplink Echo Gain" is now reported for both systems, and the G51 reports TDD pattern specifics for relevant signals.
The missing column labels for Band Settings and Channel Settings are again displayed on the System Settings page for QUATRA 4000e systems.
Other general maintenance and fixes
See also: Prior release, Version 1.6.4