Release date: December 22, 2022
WAVE Portal version 1.6.2 includes the following:
Log In Interface Updates
The appearance of the WAVE login screen has been updated, which includes a rebranding of this page from "WAVE" to "Nextivity." Please refer to the image below for reference.
This change does not affect existing WAVE Portal users. Continue to navigate to wave.cel-fi.com to access the WAVE Portal. Any saved bookmarks will continue to work, and existing usernames and passwords remain valid.
Please note that the "Sign Up" option that is now available will create a new Nextivity account, but it will not grant the new user access to the WAVE Portal. Users must still be manually authorized to access the WAVE Portal after completing the Cel-Fi Certification relevant to their region.
This change is being made in preparation for SSO across additional Nextivity applications.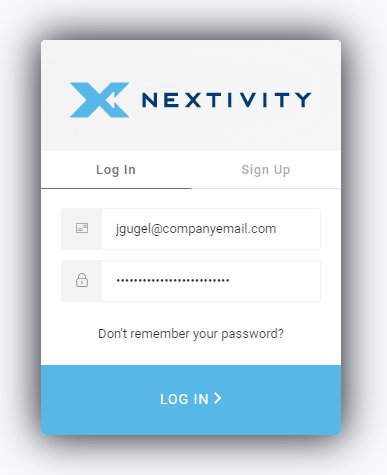 Issues Resolved
Resolved an issue that caused the UL and DL frequencies for legacy 5G to not be displayed for the QUATRA 4000.
See also: Prior release, Version 1.6.1